Welcome to Gigg! We're glad to be a part of your team. We want to provide you with an overview of Gigg, our beliefs, features, and next steps in getting you setup. Let's rock n roll!
What's Gigg?
Gigg is more than just another platform, it's a disruptive paradigm shift in your marketing strategy. We believe that your customers, fans, students, etc. are your greatest marketing team. That's why word-of-mouth is the undisputed champion in all forms of effective marketing. The question is: What are you doing to give them a reason to talk about you? Social media has changed the game of marketing. Our goal is to enable brands to engage with their base at a deeper level. The Gigg platform is an extension of our belief. Here's how we do it differently:
We focus on calls-to-action within your value proposition to encourage social sharing from your base in their experiences with your brand.

We have tools that expand the customer relationship by highlighting, repurposing, and leveraging user content to create conversion opportunities.

We provide analytics that focus on the metrics that matter; measuring social conversations, engagements, pageviews, and clicks.
Aggregating your social data
Gigg brings your social data into one single inbox while overlaying it with insightful and actionable analytics. Let's pop the hood!
Connecting Gigg with your social accounts
Because it all starts with social, naturally, the first step is to connect Gigg with your brand's social accounts. You have three options here:
FB/Instagram: If you have a brand Instagram account, you can connect your account via the Login with Facebook API. If you don't have one…shame on you. Let's get you started here.

Twitter: If you have a brand Twitter account, you can connect your account to Gigg.

YouTube: If you have a brand YouTube account, you can connect your account to Gigg.
Entering your keywords
Our goal is to help you get the most relevant content from social media, and to do that, we want to track the keywords, hashtags, and handles unique to your campaign, product, and brand. These keywords help ensure that your inbox is filled with valuable content.
Keywords are words that are mentioned in social media that do not include a "#" or "@" before them. Bear in mind that only Twitter allows you to pull in these phrases whether they be a single or multiple word phrase. We discourage this use case.
Hashtags
Hashtags are the most commonly used keyword for social aggregation and are primarily used in a campaign-type function. Please note that hashtags do not contain any spacing or other special characters.
Tags
Tags are used when a user "mentions" your username in the caption of their post. Tags have also become more widely used as "photo tags". This function may be used when connecting your social accounts within the toggle option. Please note that tags are not pulled from comments on posts.
Organizing your Social Inbox
With your accounts connected and keywords entered, your Social Inbox should begin to have content to work with now. The Inbox will continue to pull in new posts moving forward. Keeping your inbox well-organized will be key to managing the flow of content. In order to moderate your inbox, here are a few action items:
Pin
Pinning a post will add it to your Pinned folder, adding it to your Board. This allows you to highlight and leverage authentic content from your your greatest marketing team.
Delete
Deleting a post will completely remove the post from your Inbox. We recommend deleting posts that are irrelevant to your brand and/or will most likely never be highlighted on your Board.
Search
Gigg's search capability allows you to filter by platforms and search for keywords, phrases, users, and any other relevant information within your Inbox.
Block
Blocking a user will remove any specific user's posts from your Inbox and discontinue pulling in any future posts from that user. Be aware that this function only works with Twitter, as Instagram's Privacy Policy prohibits any user identification information being aggregated.
Displaying your Board
Now that you've been been managing your Inbox and have pinned a number of posts to highlight on your Board, you are most likely eager and ready to display the Board.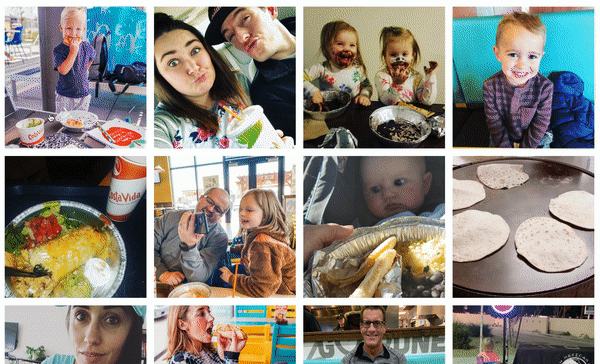 Web Display
The web display option allows you to embed the Board on any website, whether in a specific section or a dedicated page, to show your web visitors that your brand is engaged on social media and highlights/promotes customer posts
TV/Monitor Display
Blocking a user will remove any specific user's posts from your Inbox and discontinue pulling in any future posts from that user. Be aware that this function only works with Twitter, as Instagram's Privacy Policy prohibits any user identification information being aggregated.